On behalf of everyone at the BC Summer Reading Club, our committee is thrilled to announce that our 2023 BC SRC Artist, Jeni Chen! Jeni will be creating art for our 2023 time travel theme – Journey Through Time.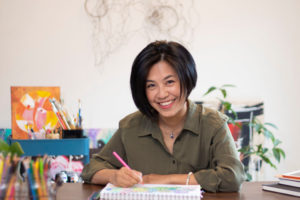 Jeni is an artist from Richmond, B.C. artist with experience creating public art installations and leading engaged community workshops. In 2022, she authored and illustrated her first children's picture book, Emet's Box (2022), a story that encourages self-discovery and finding one's passion and an ode to her son. She grew up in Taiwan, where she loved going to the beach and swimming pools during the humid summer days. When it comes to her favourite stories, Jeni loves comics and manga, including many classics like Garfield, Dennis the Menace, and Henry, as well as, Dragon Ball-Z and City Hunter. You can view Jeni's many public art installations around Richmond, B.C., where she lives with her husband and son.
Jeni will be available for workshops this summer and more information to come in the new year. If you'd like to learn more about Jeni and her art, please visit her website: jenichen.com.